Why choosing Skincare & Facials at Jenny Beauty?
---
Understanding how important of your skin health in your life, Our Skincare & Facials Services will:
1. Help your Skin stay in Good condition, Keep your skin looking its best:
Keep your skin glowing
Prevent acne, pimples
Treat Wrinkles early
2. Help you look more youthful with your younger skin:
Help remove dead skin cells probably
Help the process replace them with newer and more youthful cells
Stimulate blood flow & leave your skin refreshed & glowing
Re-surface the very top layer of the skin
Ensure the skin is left feeling lighter & brighter
Reduce inflammation, redness, fine lines, acne breakouts, scarring, rosacea.
Reduce pigmentation, enlarged pores, blackheads
Reduce the appearance of dark spots, stimulate skin tightening, collagen production
3. Save your time & your money & best results
Prevention is easier than correction
Preventing skin problems is less costly than trying to fix them in the future as you age
Your self-confidence will get a boost. When your skin look better, you will feel better about yourself & more self-confidence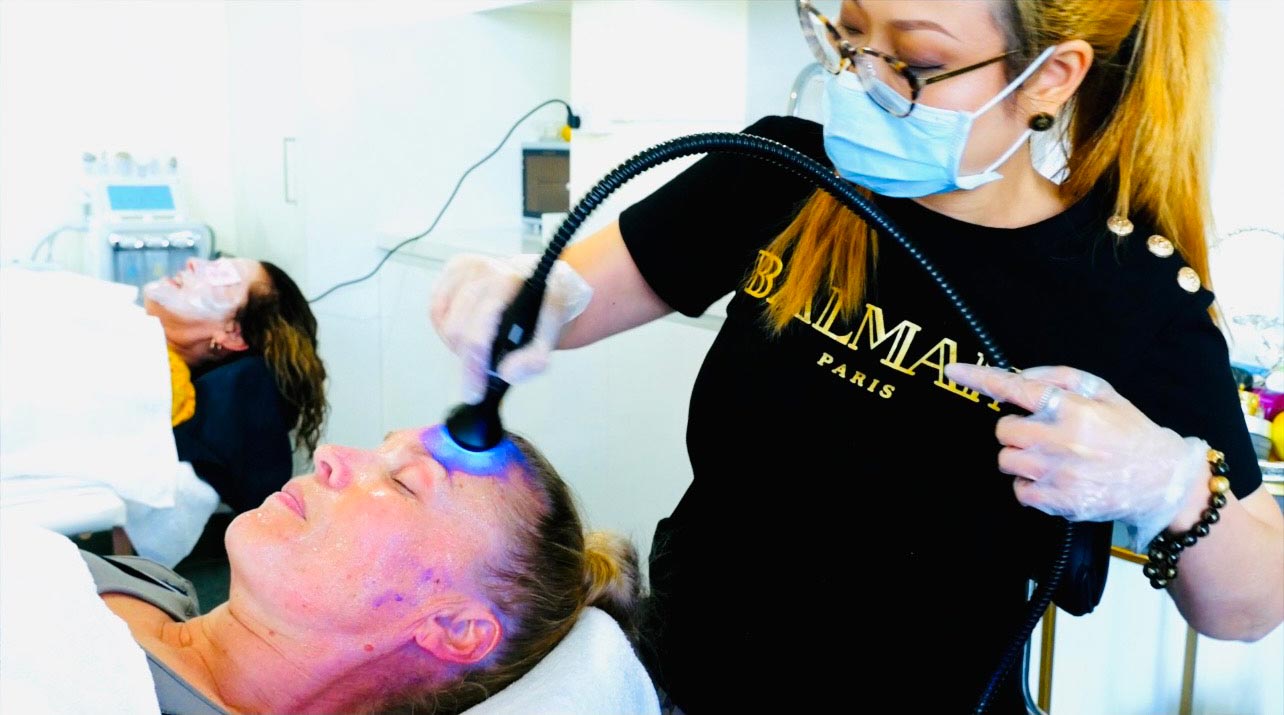 Facials & Skin Treatments
There are many different types of skin problems, some of more common issues are: sunburn or sun damage, acnes, dark spots, wrinkles, sagging skin, dark eyes circles, eczema skin…
Whatever your skin problems, with our experience, professional knowledge & latest technology treatments, you will be sure to receive the best results.
Your skin is always checked up first & analysing before  any treatment. Based on your skin analyser results, we will design a tailored treatment plan to deliver the best to your skin.
What's included:
Skin Analyser to define your skin concerns
Personalised consultation: factors that cause your skin problems, Life style, Food, or products
Using Products: based on the specific information from skin analyser, we will make a choice for your products used in your treatment. Most of them from the brand: Seacret, Murad, Nuskin, Mario Badescu, Dermalogica, Medik8
Using latest technology (without any pain and no needles involved, very safety)

High Radio Frequency
Professional Led light Photon Therapy
Injection Oxygen Water Spray Rejuvenation
Ultrasonic Skin Scrubber
Ozone Steamer
Vacuum and Spray Gun
Micro fusion
Facial Sculpting

Using Korean Acupuncture Massage

Blood Circulation
Remove Eye bags
Remove wrinkles
Sculpt & Contour the face
Stimulate Collagen & elasticity
Enhance skin cell renewal

Free 3days Products use after Treatments:

Facial wash
treatment cream
Jenny Beauty Skincare & Facials Videos
---
Jenny Beauty Skincare & Facials Gallery
---